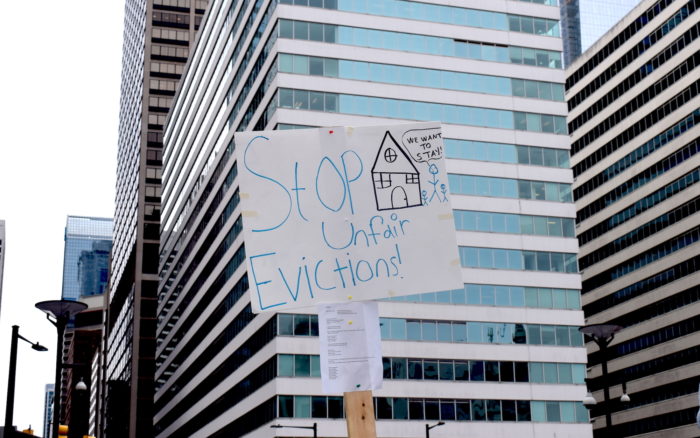 Fighting for Housing During COVID-19
By Shanayah Wyche, Philly We Rise Intern
Nearly 20% of US renters were unable to pay rent for the month of May. In April, one in three renters defaulted on payments. With the massive loss of employment, workers and families across the country are struggling to make ends meet. In Philadelphia, our city must ensure that communities are provided with stable housing in order to social distance and care for their loved ones during this crisis, without fear of impending evictions.
Philly Organizations Take the Lead
The Philadelphia Rent Control Coalition, a collective of community organizations that advocate for housing justice, have come together to call on City Councilmembers and Mayor Kenney to implement rent and mortgage cancellations during the crisis and create programs that will support homeowners, renters and the homeless community in the months following. The coalition emphasizes in their COVID-19 statement that even when the full shutdown ends, many businesses will remain closed and those that do reopen will not rehire quickly. This means that for many their financial situations will remain the same or worsen.
Philadelphia Tenants Union, a member organization of the coalition, has been organizing tenants across the city for the past two months and helping to connect them with others who have the same landlord. Through uniting, tenants are able to stand in solidarity with one another while negotiating with their landlord and fight for each other's right to have a home during the pandemic.
In March, PTU created a tenants' organizing guide for renters looking for guidance and resources during COVID-19. This guide has spread across the nation.
Yohsuke Araki, PTU organizer and media and press coordinator, explains that while the guide was created for all tenants, it was specifically designed to provide vulnerable communities with methods of negotiating that would not put them at risk.
"Through help and collaboration with tenants unions nationwide, we created this guide to connect tenants with each other and build up collective power to use as leverage for a unified voice against landlords," said Yohsuke. "This guide helps to focus on achieving demands and is a safe route to go, specifically for poor people of color, Black people, elderly people, people with disabilities, immigrants, and folks who already have been at risk for eviction."
"These individuals are already in situations where they do not have the resources to withstand an abusive landlord, so we made this keeping in mind that we wanted folks to be able to have resources to combat landlords that would not put them in a worse position for themselves."
Housing Inequality Before and During Coronavirus
Low-income people and communities of color experience the highest rates of housing exploitation and struggle to access legal protections. This has heightened during COVID-19 crisis. Recently, there has been increased reports of landlords pressuring "arrangements" and sexual conduct from women unable to pay rent. This form of exploitation and other acts of misconduct will likely increase if the city doesn't implement legislation protecting renters.
In an interview with OnePA, a multi-issue organization dedicated to fighting for marginalized communities and a member of the Philadelphia Rent Control Coalition, community organizers Dante McCall, Munira Edens, and Shakiya Canty expressed how housing inequality has been very prevalent in their lives long before COVID-19. "I have moved every five years, lived in every part of the city, and each time the expenses increase while my wage does not," said Munira.
The housing crisis has long devastated low-income communities and communities of color. Currently there are over 200,000 Philadelphians struggling to pay rent, buy a home, or cover mortgage, and nearly 1,500 children under 18 years old are homeless on any given night. This disproportionately impacts Black and Latinx communities, women, people with disabilities, and the LGBTQ+ community.
West Philly native Shakira King explains how housing insecurity has impacted herself and others community members. "I was working three jobs at one point and there were days where I wouldn't come home for two or three days because I was on SEPTA traveling between jobs and taking care of myself where I could. This was my reality for almost a year. I have lived here my entire life but now I am living in an area that is not affordable and entirely different," said Shakira. "I do not know how we expect people to be well or take care of themselves if they do not have their basic needs met. What does it mean if a city with a large population of black and brown folks can't afford their basic needs? If they do not pass this moratorium for the year, that is going to be a huge slap in the face to a number of people."
Community members are banding together and fighting against landlords who are illegally attempting to evict themselves or their neighbors. Shakira has been meeting with other tenants in her neighborhood once a week to figure out how best to negotiate with their landlord.
"It began with me and another neighbor getting on a zoom call, and then a friend of mine who lives at the end of the block said they had someone in their building trying to organize as well. So we got connected and ultimately found out all three of us are owned by the same people and managed by the same company," said Shakira. " Since then, we've been collecting experiences from folks and what they want to see improved from their landlord. We've really grown connected during this time and given each other support for basic needs like food. We have mostly been helping students and everyday people making their way through life, but we just want a place to live during this time."
The City's Response & What's Next?
On May 1st, City Council members introduced an emergency housing protection package that is meant to ensure the collective health and safety of Philadelphia renters experiencing economic fallout. Co-sponsored by Kendra Brooks, Helen Gym, and Jamie Gauthier, this package of six bills and one resolution seeks to "protect renters while they put their lives back together after the crisis, ensure that landlords can ultimately get paid, and relieve what is bound to be an unprecedented burden on the courts."
This package includes deferred rent repayment plans, rent stabilization during the pandemic and for a year following, and forgiveness for all late fees on rent during the pandemic and for two months after. The legislation will be discussed during a hearing this Friday.
This legislation is a strong start. However, we need additional action to protect renters from the onslaught of evictions that will likely come after the statewide moratorium ends on July 10th.
In addition, Mayor Kenney's recently proposed budget, which includes cuts to city services and worker layoff, would slash funding to the Housing Trust Fund. The fund serves people with disabilities and families of color with the lowest incomes in our city. It has been significant in assisting those being impacted the hardest by COVID-19. If the Mayor goes through with the cuts, many worry that those who use it will lose their homes.
Like the many issues this pandemic has caused globally, fighting for affordable and accessible housing is not an individual problem, it is a community problem and it needs community-based solutions. We all deserve the right to feel safe in our communities and be stably housed in order to self-quarantine or social distance. Officials must implement addition policies that ensure that renters, homeowners and homeless citizens are protected while Pennsylvania is shut down, not only for housing stability but for public health and safety.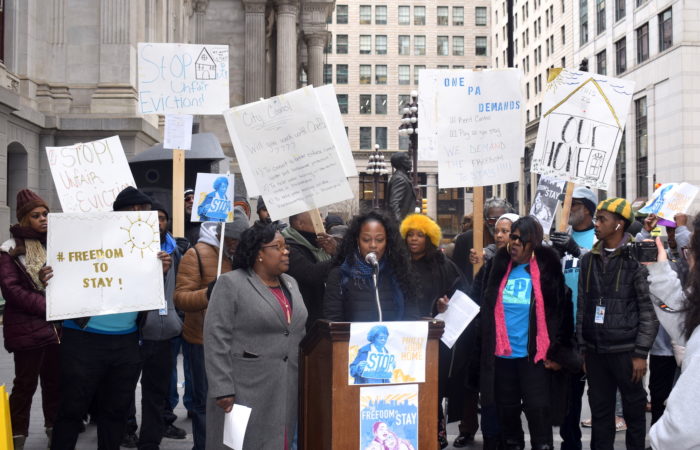 Join the Fight for Housing Justice
We can do our part by reaching out to our policy makers via email or social media demanding they protect at-risk Philadelphians. Here's how you can act in solidarity with those facing housing hardships during this time.