March 25, 2020
By Shanayah, Philly We Rise Intern
Philly We Rise Power Series
The COVID-19 outbreak has revealed just how broken our country's social safety nets are. Millions of Americans are struggling to navigate our country's inadequate health and labor systems. In the midst of this intense moment, communities have come together to build powerful and large-scale organizing campaigns to support those who are the hardest hit. We'd like to take a moment to focus in on how Philadelphia workers are uniting and organizing during this unprecedented time.
Protecting the Backbone of Our City
The call to shut down all nonessential businesses has left thousands of workers in our city in peril. Mass amounts of people have been laid off or furloughed indefinitely, and many of those who are still employed are working at the frontlines of the crisis, as healthcare workers or in dangerous low-wage positions, at grocery stores, convenience shops and delivery services. These low-wage workers, who are now putting their lives on the line to keep our city functioning, have historically had little to no labor protections. Now, these same workers are coming together to demand dignity, real safety and expanded labor protections.
Pennsylvania Domestic Workers Alliance (PDWA), a network of house cleaners, nannies and caretakers that works for respect, recognition and labor standards, is one of the organizations at the front of the fight.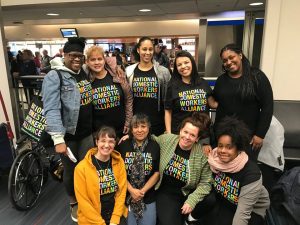 PDWA has joined together with local unions, labor groups and community organizations to demand that the city implement emergency legislation that will ensure safety and protection for all workers. The two major demands being proposed highlight the struggles of two subset labor groups: formal and informal workers.
The first demand calls on City Council to expand the Paid Sick Days law to meet the needs of this moment. The expanded legislation calls for an increase in employee paid leave to 112 hours or just over two weeks. This change would protect those who get sick, those sent home due to the citywide shutdown, and those forced to take time off to take care of children during the school closures, among other circumstances. The second demand calls for protection of workers that fall out of legislative boundaries, such as independent contractors, nannies and undocumented gig workers. The collective of workers demands that the city create a COVID-19 emergency fund that would provide financial relief to low-wage, informal laborers.
Under these two major demands, the coalition believes the emergency legislation should also include: guaranteed return to the same job, continuation of job-based health insurance, and affordable testing in ICE-free health facilities, among other policy proposals. Read the full list of demands here.
Philly Workers For Dignity is another coalition calling on the city and state to bail out workers. Philly Workers for Dignity is a collective of domestic, formal, and informal workers coming together to fight for workers' dignity and the right to organize. In the wake of COVID-19, the group has called attention to the contradictions in the way the federal government has prioritized corporations over individuals, highlighting the Trump administration's readiness to bail out big business while leaving the low-wage workers to fend for themselves. Through the length of the pandemic, Philly Workers for Dignity is demanding legislation that includes free testing and treatment that protects undocumented workers, a moratorium on evictions, foreclosures, and layoffs, and reimbursement of lost wages.
Nicole Kligerman, Director of Pennsylvania Domestic Workers Alliance, views this as an important moment for city officials to radically rethink worker and social policies.
"Massive numbers of people have lost their jobs and do not know when they are coming back or how to pay for food, rent, or utilities. There's also large numbers of people in informal businesses and workplaces, like domestic workers, facing concerns. Parents who are at home do not need nannies and employers concerned for their pockets are cutting house cleaners," said Kligerman.
"At the same time, people in work are not receiving material protections and being put in harm's way. Workers need financial and public health protections and widespread testing. Organizers and laborers are demanding emergency aid that could result in permanent policies while supporting each other to protect ourselves collectively from the next disaster."
It Takes All Forms of Community Togetherness
During this pandemic,PDWA and other worker rights' groups have seen increasing stress and anxiety experienced by individuals who battle mental health, have difficulty with isolation, or have no certainty when they will return to work. Along with emergency legislative resolutions, this needs to be a time where organizations and individuals are providing community support and resources to the best of their ability.
PDWA has a committee dedicated to distributing material aid and technology training during this time. They have trained members on how to use Zoom and provide individual community support for folks who are facing depression because of isolation and job halts, letting them know they are not alone during this time.
"Workers' rights ultimately are people's fundamental ability to provide for themselves and their families and to stay healthy. As long as the system is set up to be dependent on our employers for food and health insurance we will continue to face a crisis in an increasingly changing labor market where so many people are gig workers and independent contractors falling out of the social safety net. We must continue to all work together to radically rethink how we help everyone meet their basic needs." said Kligerman.
What's Next?
In hopes elected officials respond to the demands of low-wage workers and step into leadership, the coalition of workers rights' groups is holding a virtual town hall tomorrow, March 26, at 6:00 PM. They are inviting all council members and the mayor to hear from different workers about how this crisis has impacted them. There will be different virtual rooms for English, Spanish and, hopefully ASL, so that everyone is heard and able to speak to representatives directly. There will be a prepared agenda. All workers are encouraged to RSVP.
TAKE ACTION to Protect Philly Workers During COVID-19!
Tune into tomorrow's virtual town hall, share your story, and to support thousands of Philly workers!
Sign the coalition's petition that lays out how the the city can take action to protect the all workers during this moment and beyond.
Sign Philly Workers for Dignity's Petition that challenges the status quo and demands immediate action from local officials.
Donate to the National Domestic Workers Alliance's Coronavirus Care Fund. The group's goal is to raise $4 million to disburse to domestic workers in Pennsylvania and across the country.
Support Organizations Providing Mutual Aid & Community Relief
There are large numbers of homeless teens, individuals battling with substance abuse, individuals without internet access and more facing increasing concerns during this public health crisis. Here are a few organizations who could use additional help as they are supporting the community:
March 20, 2020
We are so excited to announce our latest initiative, Philly We Rise Power Series, a collection of articles diving into some of the most prominent issues in Philadelphia, from gun violence to rent control to immigration. In this series, we analyze the issues, speak with the organizations at the helm of the fights and let you know how you can get involved. Plus, in an upcoming article we will focus in on the organizing efforts around COVID-19, which has brought to the forefront some of our nation's weaknesses around accessible and affordable healthcare, workers' rights and the availability to take time off, and internet access and the digital divide.
We launched this project in response to your feedback from the Philly We Rise community survey. We heard you when you asked for more information about the issues in our communities and how they intersect with local politics.
This work is led by our small team at PWR and our incredible intern. Additionally, it is only possible through collaboration with the movement community in Philadelphia. You can support the ongoing work of Philly We Rise and the Power series by donating.
Please reach out to us here if there's a topic that you're curious about and would like us to highlight. We also encourage you to contact us if you're part of an organization that's currently working on a campaign in Philadelphia.
Keep your eye out for our first article, coming out soon, about March for Our Lives and their work to combat gun violence in Philadelphia.
Onward,
Mariam, Philly We Rise Lead
Shanayah, Philly We Rise Intern
October 11, 2019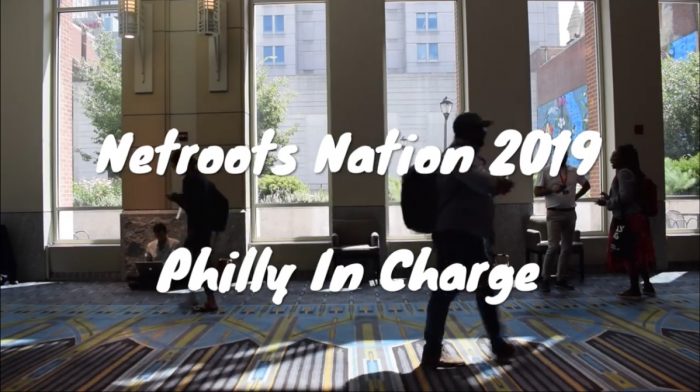 Philadelphia has been at the lead of fights to advance social justice across the country. Earlier this year at Netroots Nation, a national convention that brings together progressive organizers and legislators to discuss the most urgent issues affecting communities, we saw the power of Philly in action.
Organizers from Philly-based community groups shared their stories: recounting the wins they've achieved, discussing the strategies they've used and planning for the challenges we still need to overcome. Our video of highlights show some of the Philly movement leaders who made Netroots Nation a historic event in Philly. We are excited about what we can accomplish next, as we unite and use our collective power to incite change in our city and our nation.
August 12, 2019
When Philly We Rise launched in 2017, we aimed to be a leading resource for those who wanted to take action against injustice in Philadelphia but didn't quite know where to start. We compiled the events from grassroots organizations across the city and shared them with you, the people who were ready to take action and lead demands for change.
Since then, our platform has continued to be a resource and hub for those who want to get involved in the movement. In addition, it has become a living archive of the social justice movement in Philadelphia and a vision for a better city.
Now in our third year, we want to take a moment to check in with you, our community, to figure out what's working in our process and what needs to improve, in order to determine where we should go from here! 
Ultimately, Philly We Rise is for you. We want to make sure we're providing you with the information you want and need, in ways that are most accessible to you. 
Please take 3 minutes to fill out our 2019 Community Survey​! Your participation will be invaluable in guiding our next moves.
Onward,
Philly We Rise
July 27, 2018
Our email host is having some trouble making sure The Happening gets to the inbox of Gmail users – so we're posting it here. And not already subscribed? Sign up. And we're working to get The Happening back in your inbox for next week.
---
Welcome to the Weekly Happening! Here is your weekly to-do list for the resistance.
Mass Meeting: Abolish ICE & #EndPARS
Join organizers from the Occupy City Hall Campaign at a mass meeting this Friday at the William Way LGBT Community Center to discuss the Abolish ICE movement and where #EndPARS is. The following Saturday, August 4th, organizers will be hosting a march from the Liberty Bell to City Hall to continue to put pressure on Mayor Kenney, Governor Wolf and City Council to abolish ICE, shut down the Berks Family Detention Center and end the PARS data sharing contract with ICE that's up for renewal on August 31st. Come out and rally in solidarity with Philadelphia's immigrant communities.
Rally for Environmental Justice and Fight Environmental Racism
Next Thursday, August 2, join Green Justice Philly and Carnival de Resistance for a parade and rally across Philadelphia. The organizations are pushing for the solarization of Philadelphia and demanding the the city integrate social justice goals into their renewable energy plan. The parade will start at PECO where they will protest their energy policies and rate hikes, then it will stop at SEPTA where they will demand that SEPTA stop construction on the gas-fired power plant in Nicetown. The proposed gas plant is considered to be a obvious continuation of environmental racism. Nicetown is a residential neighborhood with a population that's over 90 percent black. The plant would emit 67 tons of toxic emissions into their air annually, and could further deteriorate the already poor air quality in the neighborhood. The parade will close at City Hall where they will encourage Mayor Kenney and City Council to use solar energy on city infrastructure and to ensure that work on new projects go to Philadelphia residents and that the hired workforce reflects the racial demographics of the city. Turn out to demand the right to clean air for all of Philadelphia residents.
Carnival de Resistance will be in Philadelphia all week with a wide range of events including, mural painting, carnival events and an eco-village demonstration at the Norris Square Neighborhood Project!
#JusticeForMichaelWhite
Join family and friends of Michael White at his court appearance on Wednesday, August 1st, to demand that his charges be dismissed or down-graded and that he be released on bail until the outcome of his case. Michael White was arrested for the murder of Philly real estate developer Sean Schellenger. Michael was working as a courier delivering food when he encountered Sean and two other men. Michael, a black man, encountered the three white men around Rittenhouse Square. Michael's family has said these men were "visibly intoxicated" and that Michael felt racially targeted by these men who wanted to start a fight with him. Family, friends and community members have rallied to support Michael, who they believe acted in self defense. PhillyMag reporter Ernest Owens explains how the racial dynamics of the criminal justice system play into the case and how as a black man Michael has unjustly been labelled an aggressor rather than a victim. "I know for certain that if Michael White had been a white boy delivering food in Rittenhouse Square and was confronted by three Black men, self-defense would have been the automatic plea — just as it often is for any white man who kills an unarmed Black person in America," wrote Owens. Stand with Michael and his family his Wednesday to demand that he receives justice.
Revolutionizing Our Justice System
Join Councilwoman Helen Gym, District Attorney Larry Krasner, writer and activist Shaun King along others for a conversation about revolutionizing our justice system. The event will take place next Tuesday, August 31st, at City Hall. It's held as part of the Be a Hero campaign launched by activist Ady Barkan. After Ady was diagnosed with ALS almost 2 years ago, he started the Be a Hero campaign as a way to hold politicians accountable to their votes. He is travelling across the U.S. asking politicians to be heroes and energize the progressive legislation that matters the most.
Are you following Philly We Rise on Instagram?
Check out and follow the Philly We Rise Instagram for photos and stories from events across the city!
Upcoming Events:
July 26, 7-10 PM We (Too) Are Philly: Solidarity Before Citizenship Showcase Thomas Paine Plaza, 1401 JFK Blvd, Philadelphia
July 26, 7:30-10 PM Disruption: Poetry & Open Mic The African American Museum in Philadelphia, 701 Arch Street, Philadelphia
July 27, 6-8 PM Mass Meeting: Abolish ICE & #EndPARS William Way LGBT Community Center, 1315 Spruce St, Philadelphia
July 28, 12-4 PM Movin' On Out Cookout (For Tenants Facing Eviction) Clark Park, 4300 Baltimore Ave, Philadelphia
July 28, 1-4 PM Artist Against Borders – Community Fundraiser A-Space (Community Center), 4722 Baltimore Ave, Philadelphia
July 31, 12-1 PM Revolutionizing Our System of Justice – Be a Hero Tour in Philly Mayors Reception Room in City Hall, Philadelphia
July 31, 4-7 PM How to Create Economic Opportunities from Climate Change DiscussionOverbrook Education Center, 6134 Lancaster Avenue, Philadelphia
July 31, 6-8 PM Art for Social Change CityCoHo, 2401 Walnut St Suite 102, Philadelphia
Aug 1, 9 AM Stand with Michael White Philadelphia District Attorney's Office, Three South Penn Square, Philadelphia
Aug 2, 10:45 AM – 1:15 PM Power Toward a Just Future: Parade and Rally 2301 Market St, Philadelphia
Aug 4, 11 AM – 2 PM March for a Sanctuary City: End Collaboration With ICE Philadelphia Liberty Bell, N 6th St, Philadelphia
Aug 4, 6-9 PM Support Gaza Event Arch Street Meeting House, 320 Arch Street, Philadelphia
Aug 5, 6-8 AM Philadelphia Middle Passage Ceremony Penn's Landing, 211 S. Columbus Blvd & Walnut St, Philadelphia
Aug 5, 10 AM – 1 PM Running Down the Walls 2018 5K Run Lemon Hill Dr, Philadelphia
Aug 5, 10 AM – 5 PM MOVE9 40 Year Commemoration Fairmount Park, Reservoir Dr, Philadelphia
Aug 11, 1:30-3:30 Reclaim Philadelphia Citywide Meeting First Unitarian Church of Philadelphia, 2125 Chestnut St, Philadelphia
Aug 11, 2-5 PM Palestine & Black America: A Strategy for Liberation DiscussionChurch of the Advocate, 1801 Diamond St, Philadelphia
Aug 15, 4:30-7:30 PM Justice in the Workplace: Fairness for Low Wage Workers Panel1650 Market Street, Suite 1800, Philadelphia
Aug 18, 7 PM – 12 AM The Trans Equity Project Fundrager Children's Community School of West Philadelphia 1212 S 47th St, Philadelphia
Aug 25, 11 AM Black + Brown Lives March Too Liberty Bell 526 Market Street, Philadelphia
Aug 27, 6-8 PM Voices of POWER Engaging Others Workshop POWER 1429 N 11th St, Philadelphia
Aug 30, 8-11 AM Mumia Abu-Jamal Court Hearing 13th & Filbert, Philadelphia
Sept 8, 10 AM – 6 PM Health, Empowerment & Rights Summit Allentown
Sept 22, 5 PM 17th Annual Playgrounds for Palestine Gala Houston Hall (University of Pennsylvania), 3417 Spruce St., Philadelphia
Oct 26-28 Transgender Ally/Advocate Training Camp The Cedar Works, 4919 Pentridge Street, Philadelphia
As always, stay up-to-date on our website, Twitter, and our Facebook page!
We are continuing to build Philly We Rise as a communications hub for the movement. Please forward this email to your friends and family to get them signed up here!
In solidarity,
Philly We Rise
February 14, 2018
The highest court in Pennsylvania ruled that the districts our statehouse has drawn for our Congressional representatives in Congress are unconstitutional. Republican leadership in Harrisburg wants to stack the deck so Democratic voters and people of color don't count. Congress has immense power over the resources that come to our communities, and the policies that hurt or help our families every day. Here's why you need to take action for you and your neighbors.
In 2011, Republicans in Harrisburg drew maps to advantage their Republican friends in Congress. The Republicans used a number of tricks – called gerrymandering – to keep the state red, even though the majority of PA voters are Democrats. The maps divide up communities of color to dilute their vote, by either segregating people of color in just a few districts, or splitting communities up into unrecognizable pieces. This means many of our districts look like Rorschach blots. PA's 7th Congressional district is a good example:
The PA Supreme Court gave state Republicans a chance to fix the maps. The maps Republican PA Speaker of the House Mike Turzai and PA State Senate President Joe Scarnati drew still aim to discount Democratic voters. Their map splits areas with high numbers of Democrats across districts and exclude from Republican strongholds places where people of color and women leaders could emerge to take office.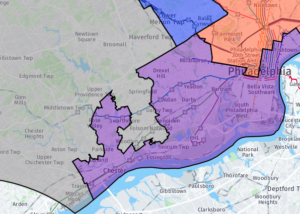 Here's the line between the 1st District that covers much of Philadelphia and the 7th District reaching into Delaware, Chester and Montgomery Counties. Notice anything? The district cuts out the Philly suburbs in Delaware, so high numbers of people of color are not in the 7th. A district like this from Turzai and Scarnati is no surprise after Delaware County Council picked up it's first Democratic reps in history and Delaware County Democrats now outnumber Republicans by 16,525 voters.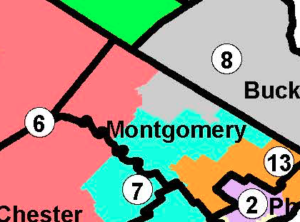 The new districts continue to split Montgomery County voters across 4 congressional districts, cutting up the county's growing communities of color into districts that stop representatives who are people of color.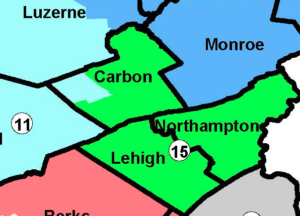 Up in the the Lehigh Valley, shifting the 15th District borders into Carbon County pack in even more Republicans registered voters into the district in an attempt to hold power in a rapidly diversifying area.
When it comes to funding our schools, prioritizing investment in communities rather than investment in prisons, and protecting our environment these maps help state and congressional Republicans win elections even though the majority of voters want otherwise.
Make sure you and your neighbor's vote count.
December 22, 2017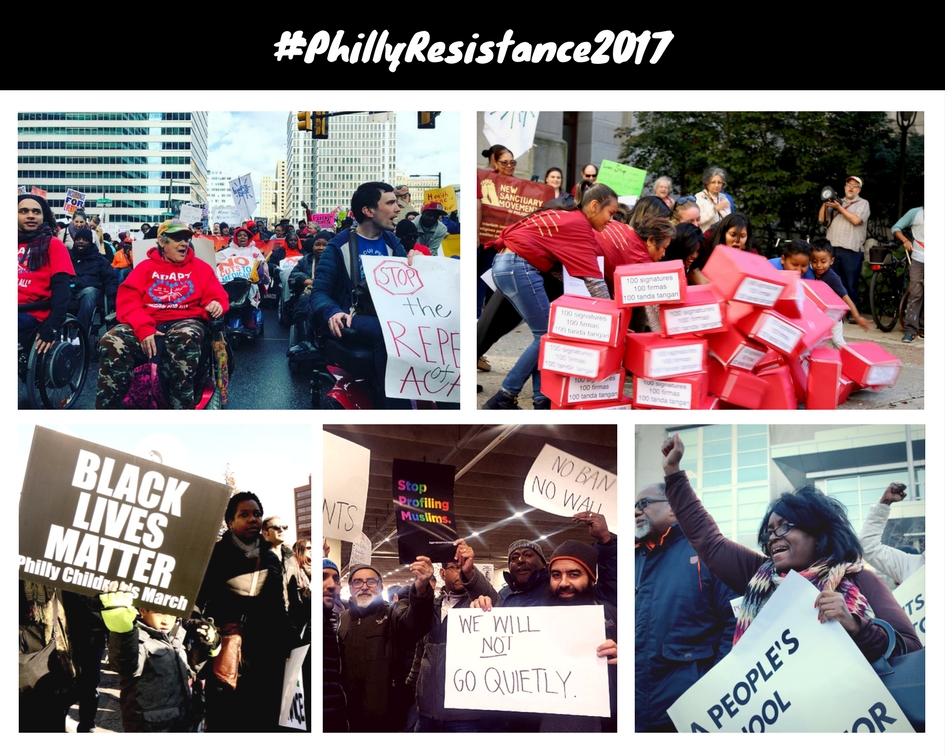 Happy holidays, Philly We Rise! We can't believe 2017 is already over. For many of us, this has been a year unlike any we have ever known. Each day seems to bring a new unprecedented political moment, and a new battle to hold onto things we may have never imagined might be taken away.
And in other ways, this year has simply brought more of what we've been faced for as long as we — and our ancestors — can remember. We didn't start Philly We Rise after Trump's election because we thought we had new battles that we didn't have before. We started Philly We Rise because we wanted to lift up the organizing and voices of those that knew that Trump's rise, though frightening, was simply one symptom of a broken system that, for centuries, has pushed down the interests of everyday people in order to lift up the wealthy and powerful. We wanted to bring a spotlight onto the leaders who know what we're up against, so that no one newly mobilized by Trump's rise would enter the struggle alone from square one.
The calls to action we've heard across Philadelphia and the region this year are too many to list. We shut down the city for multiple days when the Republicans came to town for their "retreat" in January, marching on City Hall, and dancing in the streets for LGBTQ healthcare. We dropped what we were doing and came out to the airport by the thousands when Trump announced his first anti-Muslim travel ban. We went to Senator Toomey's office every Tuesday to demand he hear from his constituents. We forced the District Attorney race to be about what matters most to Philadelphians: ending mass incarceration and a racist criminal legal system that targets Black and Brown people in our city. We organized community networks to look out for each other and helped families find safety. We took back control of our public schools.
With the last-ditch passage of the #TaxScam that will hurt everyone but the super rich, with the destabilization of our healthcare system, with uncertainty for immigrants, and serious threats to free and open internet communication, there will be no rest to our struggle in 2018. The new year also brings new potential, including a new District Attorney, and the opportunity to push the governors race and midterm elections to be about issues that matter to us, the people.
In 2018, Philly We Rise will continue to report from the ground, bringing you links, events, livestreams, video, photos, and Weekly Happenings to let you know what's going on and what's coming up in the #PhillyResistance. We are so grateful to be your source for progressive and people-powered organizing in Philadelphia in the age of Trump.
If you've found value in Philly We Rise this year, please consider making a donation or buying a t-shirt or hoodie to support our work, so we can amplify and elevate the struggle in Philadelphia and the region until we're all free.
We'll see you in 2018! Until then, we are sending you the warmest wishes on this Winter Solstice, and joy and power for the new year!
In Solidarity,
Philly We Rise
August 3, 2017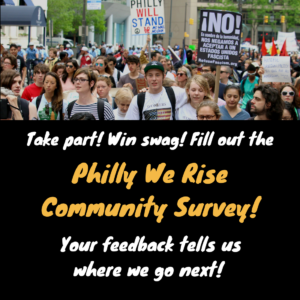 Since day one, Philly We Rise has been all about the people in and around our city. We don't answer to anyone but you, so we want to know some more about you and what you want to see from Philly We Rise in the coming months. Plus — enter for a chance to win some Philly swag! Please take a few minutes to fill out our community survey. Your feedback is so valuable to us! We can't do this without you.
In solidarity,
Philly We Rise
June 29, 2017

If there is any lesson learned from recent elections it's that the best chance to make real progressive gains is with a well-mobilized resistance pushing for it. That's why we need you to donate to a new fund to power news and information for upcoming elections through Philly We Rise.
The next major moment is in front of us. Key local, state and federal elections are fast approaching, with the 2018 primary elections less than 12 months away. We need your help to make sure Philly We Rise is there for the moment.
We're launching a new fund for political news and coverage supporting candidates and pushing the issues that the resistance believes in: racial justice, economic justice, environmental justice, gender justice, reproductive rights and immigrant rights. To make it work we need to raise new funds so that Philly We Rise can support progressive candidates and oppose the "little Trumps" of our region.
If you want Philly We Rise to be your source for what's happening in the local elections that will define the second half of Trump's presidency, donate to our special Philly We Rise Election Coverage Fund.
Thank you for trusting Philly We Rise to be your hub for the resistance.
[1] Tax exempt charitable non-profits are prohibited from supporting or opposing candidates for elections. The Philly We Rise Election Coverage Fund is housed by 215 People's Alliance C4 so your donation can go to Philly We Rise taking a stand through the mid-terms. Contributions to the Election Coverage Fund are not tax deductible.
June 29, 2017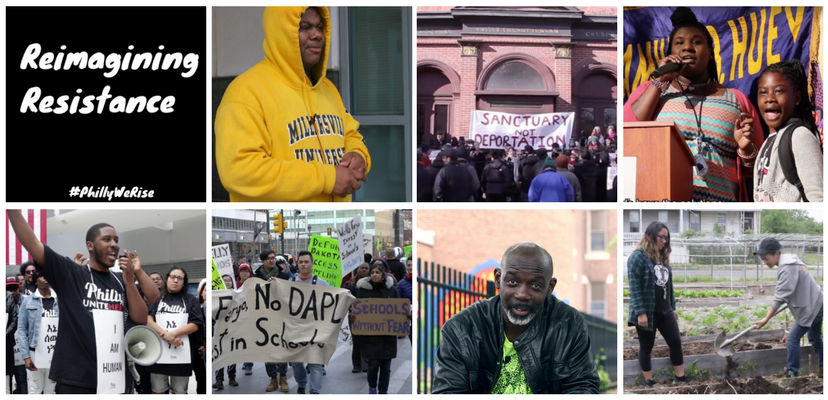 While Trump's rise to the presidency has heightened our political awareness as a country, we also know that he is just one symptom of the injustice and inequality that have been part of our realities for centuries. And while Trump didn't come from nowhere, the resistance to him, his policies, and his sympathizers hasn't come from nowhere either.
In Philly We Rise's new seven-segment series, Reimagining Resistance, we highlight different groups who organize for a just future for our city and our state. These groups know there are battles to be fought — and won — no matter who is in the White House or the State House. They're fighting for our communities, our families, our city, our state, our country, our world. Read More